Chiropractor Kansas City MO
Welcome to Leath Chiropractic located in Kansas City MO. At Leath Chiropractic, we do our best to create an atmosphere of health and wellness for the family. Our office (previously Emery Chiropractic Clinic) has been proudly serving our community since 1986, and while under new ownership, our Kansas City MO chiropractors will continue to serve in the same individual-focused and community-based way as we have for the last 35+ years.
Our clients say that our office is different in many ways from other places that they have visited. Aside from the professional and effective care that we deliver, we strive to present an atmosphere of comfort, family, and inclusiveness to all. We will create an individual-specific plan that is both effective and convenient to reach the goals of improved vitality, function, and pain relief.
We are conveniently located just next to the I-29 and 64th Street exit. Our office is adjacent to our local Hy-Vee Sunrise Dispensary and just a few doors down from Sonrisa Day Spa in the Picture Hills Shopping Center.
Your Healthcare Goals. Our Team.
How can chiropractic care help you?
Leath Chiropractic helps our clients with the usual back pain, neck pain, and headaches, but we also see many people with complaints of shoulder pain, wrist pain, numbness, and tingling in the arms/hands and legs/feet, knee and foot pain, TMJ dysfunction, and more. We have several healthcare practitioners as well as massage therapists to effectively handle many different conditions in house.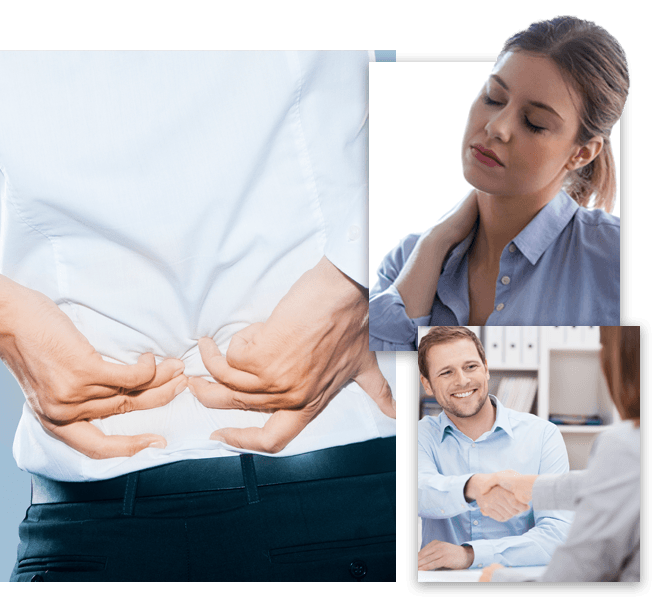 Common Misconceptions About Chiropractic Care
Many people think that chiropractic care means a lot of treatments over a long period of time and a large out-of-pocket expense. At Leath Chiropractic, we see each person as an individual and work together with each person to create a plan that sets proper expectations no matter the situation at hand. Our goal is to serve our patients to our best ability and to assist in meeting their individual health needs. Many people think that chiropractic care requires discomfort and pain or scary physical movements. Our patients know that they are safe and have many different options or levels of care that they can choose from depending on their level of comfort.
Get Started With Leath Chiropractic Today
At Leath Chiropractic, our chiropractic team is ready to meet with you to discuss your needs. We will help to design a program that is right for you. To speak with one of our staff members or to schedule an appointment, call (816) 587-7711 and we will help to find a time for you to come in to speak with the doctor to review your complaints. We will be sure to schedule you for a time that allows you and the doctor to talk about your complaints and to perform an examination before any treatment is performed.